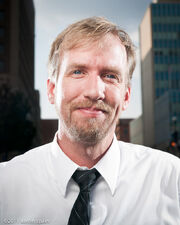 Scott Fletcher is the Voice of the Frogpants Network, providing the voiceovers for many of the podcasts. His voiceovers feature most prominently in the FilmSack podcast where he reads movie blurbs and quotes. He has also guest hosted on several Frogpants podcasts including FourCast, The Morning Stream, and the now-defunct ExtraLife Radio.
Scott Fletcher was raised in Montana and a child of the 80's, received a degree in Art and Sociology from Montana State University, and worked as a radio personality and a TV weather man for a number of years.
Scott also has a deep background in theater and was a founding member of Venture Theatre as well as the longest-running improvisational comedy show in Montana.
Scott was also the Production Manager of a community access cable station and a cable technician for a video-on-demand company. He went on to become a senior propeller-head at a technology company, designing software solutions for the healthcare and insurance industries.
While a technical geek at work and at heart, he maintains his media skills by providing voiceover services worldwide.