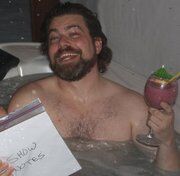 Randy "Randydeluxe" Jordan is a carbon based life form currently residing on planet Earth. Many have said he has a striking appearance to William T Riker of the Television show Star Trek: The Next Generation.
Locations
[
]
Jordan was born and raised in Texas, but moved to Vancouver, Canada when he and Samantha Jane married. He then spent several months in Hawaii, but returned to Vancouver before taking a position with Blizzard, at which point he, Samantha Jane, and their son Will moved to Irvine, California where they live now.
Frogpants Career
[
]
He started off his Frogpants career, before the network started, as a contributor to The Instance, a podcast about the MMORPG, World of Warcraft. On episode 45, Randy took the leap from contributor to full time Co-host alongside Scott Johnson and Andrew Konietzky. This trio became a duo when Konietzky departed from the show in 2007.
In 2011, after several years of hosting The Instance, Randy Jordan had to leave the show due to a work conflict he would have when he got a job working at Blizzard, the company that owns World of Warcraft. His final show was episode #217: "Now I've Gotta Go...". He was replaced by fellow Frogpants podcaster Mark "Turpster" Turpin and member of the World of Warcraft Guild, alea iacta est, William "Dills" Gregory. When Randy left, the segment "Quickfire Questions" was retired, in his honor.
ExtraLife Radio
[
]
Randy was a frequent guest host on ExtraLife Radio while it was still going on. So much so that it was being speculated that he was going to be an actual full time co-host on the show until its cancellation in 2010.
Once the Frogpants Network had launched, he picked up a fourth of the load in the quartet of Film Sack, where he remains today.