Nerdtacular started in 2007 in Salt Lake City, Utah as a way to celebrate the local Extralife / Frogpants Studios community, renting out a movie theater and watching a nerdy blockbuster together.
While Nerdtacular has grown more and more each year, and nearly just as many people come from outside of Utah that come from within, the core purpose remains the same: Good fun with good friends.
The first Nerdtacular was started as a fluke by Scott Johnson to see Spiderman 3 with fellow Utah residents, with 2 people coming from out of state. The event went so well that Scott decided to do the event again the next year.
This was the year that things started to "click" as the movie theater was doubled. The movie was the blockbuster hit "The Dark Knight". Due to there being more sponsors, prize giveaways were tripled, with 9 people coming from out of state this time around.
The newest Star Trek was the movie that was featured at the 2009 Nerdtacular.
Iron Man 2 was the featured movie in 2010, with the 400 person theater limit being pushed.
Nerdtacular 2011 (also called N11) represented a change in format from the previous year. Instead of being held a theater, a conference space was rented out for a full day's event consisting of talks, panels, and prizes. Each attendee was given a swag bag filled with goodies. The schedule ran as follows:
8:00 am – 9:00 am: Badge and Swag Bag Pickup
9:00 am – 9:30 am: Welcome to N'11, with Scott
9:30 am – 11:00 am: Frogpants Podcaster/Producers Panel (FPPP for short)
11:30 am – 12:30 pm: Nerdtacular's Musically Challenged: The game show
12:30 pm – 2:00 pm: Lunch and mingle
2:00 pm – 3:30 pm: Vidja Games Panel (Industry Experts meet Frogpants)
4:00 pm – 5:00 pm: Film Sack **LIVE** for the movie Tremors
5:00 pm – 6:00 pm: Prizeocalypse
6:00 pm – 7:00 pm: Mingle
The Frogpants site with the official N'11 roundup:
http://frogpants.com/2011/06/the-n11-photo-and-video-roundup/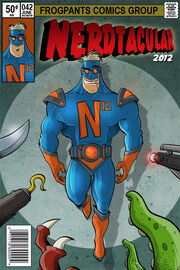 Nerdtacular 2012 was held on June 23rd, 2012. Scott created a Kickstarter to help keep ticket prices low and so fans can contribute and get rewards. Paul & Storm will be performing at the event. More details about N'12 are forthcoming on the official site!
In 2013, Nerdtacular 2013 was expanded to a two-day event with an informal meet-and-greet the evening before. The venue was moved to Snowbird Resort to accomidate the additional interest. The event was held on July 5th and 6th with over 600 attendees from across the country.