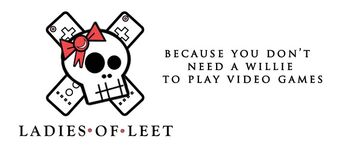 Podcast Homepage
Hosted by three hardcore lady gamers, with a perspective fresh enough to keep you coming back, week after week! Join Nicole Spagnuolo, Kimberly Price and Stephanie aka Gypsygirl as they cover video games the only way a true Lady of Leet can!
LoL went on hiatus in May 2011 and returned with new episodes in September 2011.
Currently on indefinite hiatus.
Ladies of Leet Episode List
Edit
| Episode Number | Title | Date | Show Notes |
| --- | --- | --- | --- |
| 1 | Meet the Ladies of Leet | 9/19/2009 | The first episode is here! |
| 2 | Circle of Wind | 10/3/2009 | Listen to the ladies as they discuss Aion, Brewfest, PSP Go and much more on this weeks episode of LoL |
| 3 | Leggo My PS3! | 10/18/2009 | In this packed episode of Ladies of Leet we discuss Fat Princess, Uncharted 2, Sims 3 for the iPhone, WET & Champions Online. |
| 4 | Love me some Co-op | 11/1/2009 | In another packed episode of Ladies of Leet, we discuss Borderlands, Brutal Legend, I Spy: Funhouse, Mario & Luigi: Bowser's Inside Story, Uncharted 1 & 2, |
| 5 | Too Many Great Games | 11/14/2009 | There are just too many great games to play right now and we are discussing quite a few of them in this episode. |
| 6 | Stuffed with Turkey & Brains! | 12/1/2009 | In this episode of LoL we talk about the expansion Zombieland for Borderland, Left 4 Dead 2... |
| 7 | WoW! It's Veronica Belmont | 12/13/2009 | In this episode of LoL we have our first special guest, Veronica Belmont! Veronica is the co-host of Revision3's tech-centric show, Tekzilla, and Qore on the PSN... |
| 8 | What's New in 2010 | 12/30/2009 | In this year end packed episode of LoL, Kim & Nicole talk about gaming with family during the holiday season and some of the games they got for gifts: Assassins Creed 2... |
| 9 | New Year, New Games | 1/10/2010 | Stephanie is back from holiday and we are jumping right into the new year talking about Assassins Creed 2, Darksiders, |
| 10 | Men of Leet | 1/24/2010 | In this fun-filled 10th episode of Ladies of Leet we are proud to have our first male guests on the show. The duo behind The Instance and Film Sack; Scott Johnson & Randy "Deluxe" Jordan! |
| 11 | Tomato Biscuit | 2/8/2010 | In Episode 11 of LoL we discuss Mass Effect 2, MAG, Torchlight, |
| 12 | It's Fun To Be Scared | 2/22/2010 | In Episode 12 of LoL we discuss Bioshock 2, Starcraft 2, Mass Effect 2 and of course WoW. |
| 13 | The Fourth Lady of L33t | 3/8/2010 | We have a very special guest joining us this week...Turpster! As fair warning this episode, while not explicit, it might be a little more edgy than some of you are use too. |
| 14 | Normal Mode is Not Normal | 3/22/2010 | We discuss God of War III (a lot), Batman: Arkham Asylum, Final Fantasy XIII and Dante's Inferno for PSP. |
| 15 | Blow My Mojo | 4/4/2010 | We discuss Just Cause 2, We Rule, Shutter Island, |
| Special | Ladies of Leet Intro Music | 4/12/2010 | We've had a number of people ask for the full version of the LoL intro done by Hawkito & voiced by Liam O'Brien, so here it is! Enjoy!! |
| 16 | Do you really want to rent this game? | 4/19/2010 | We review Prison Break (the game), Need for Speed: Shift, |
| 17 | Starscream | 5/3/2010 | Molly Lynn from Women of Warcraft joins the ladies this week! We discuss WoW, Dead to Rights: Retribution, |
| 18 | Pottymouth Girl | 5/17/2010 | In this episode we are discussing Nier, Fat Princess: Fistful of Cake, Bad Company 2, Sherlock Holmes vs Jack the Ripper and World of Warcraft. |
| 19 | Jublisomthing | 5/31/2010 | In this episode we welcome Tempeste from the Bind on Equip podcast. We discuss Red Dead Redemption, Alan Wake & Portal. |
| 20 | Nasty Drawers | 6/13/2010 | We discuss Alan Wake, Super Mario Galaxy 2, Silent Hill: Shattered Memories, Phoenix Wright and Red Dead Redemption |
| 21 | The Best Bug EVAR! | 6/28/2010 | We discuss ModNation Racers, Red Dead Redemption DLC, Puzzle Quest, Midsummer Fire Festival in WoW |
| 22 | Dude, Don't Touch My Toons | 7/11/2010 | We discuss Singularity, Puzzle Agent, Playstation Plus and all the wonderful games we got from the awesome Steam sale! |
| 23 | Flaming Purple Thong | 7/31/2010 | We discuss Deathspank, Lego Harry Potter Years 1-4, Little Big Planet 2, DC Universe Online & more Comic-Con goodness! |
| 24 | StarCraft 2 Stress | 8/10/2010 | In this week's episode we are discussing StarCraft 2, Kane & Lynch 2, |
| 25 | Visiting the Past | 8/26/2010 | In this week's episode we are discussing Fallout 3, Shank, StarCraft 2, |
| 26a | I'll have the DragonCon Special | 9/7/2010 | Since all 3 of the ladies were attending Dragoncon this year, we thought we forgo our regular show and bring you some of the fun |
| 26b | Those Turlets ain't Gonna Clean Themselves | 9/19/2010 | We discuss Mafia 2, Spiderman: Shattered Dimensions, Halo Reach, Amenesia: The Dark Desecnt, Tropico 3 |
| 27 | Stoopid Zombies | 10/4/2010 | We discuss Dead Rising 2, Civilization 5, Movie Cats, Team Fortress 2 and DeathSpank TOV |
| 28 | The World (of Warcraft) is Changing | 10/17/2010 | We discuss Medal of Honor, Civilization 5, Assassins Creed Brotherhood (beta), Cut the Rope and World of Warcraft |
| 29 | Halloween Vegas Style | 10/31/2010 | This week we discuss Fallout New Vegas, Red Dead Redemption DLC Undead Nightmare, Kirby Epic Yarn & Blizzcon |
| 30 | Kim Loves Multiplayer | 11/15/2010 | This week we discuss Call of Duty: Black Ops, Fallout New Vegas, |
| 31 | A Gentle(wo)mans Game | 11/28/2010 | We discuss Assassin's Creed: Brotherhood, Call of Duty: Black Ops, |
| 32 | A Great Year of Gaming | 12/16/2010 | This week we discuss the release of World of Warcraft: Cataclysm! We also recapped the year and discussed some of their favorite (and not so favorite) games of the year. |
| 33 | Welcome to Twenty Eleven | 1/10/2011 | This week we discuss Dance Central, Your Shape, Kinect Adventures, Fable 3, Move, Professor Layton, Fallout 3, Crystal Portal, Jenga and WoW |
| 34 | Becoming the Next Legend | 2/6/2011 | This week we discuss DC Universe Online, StarCraft 2 Mods, Dungeon Raid, |
| 35 | All About the Cute | 2/22/2011 | This week we discuss LBP2, Minecraft, Rift, Dead Space 2 and more! |
| 36 | Better Safe Than Sorry Mode | 3/6/2011 | This week we discuss Killzone 3, Stacking, Dance Central, Bejeweled 3, Puppetshow and more! |
| 37 | Girls Fart Rainbows | 3/22/2011 | Yes I know I said 38 but I meant 37 :) This week we discuss Dragon Age 2, Dance Central, Lil Pirates, Garage Inc and World of Goo |
| 38 | It's a RIFT! | 4/3/2011 | This week we discuss RIFT, de Blob2, Fallout New Vegas: Dirty Money DLC, Dragon Age 2, Dragon Age: Origins and more! |
| Special | LoL – Update – Life Happens | 5/17/2011 | The ladies are on a much needed break... |
| Special | LoL – Update – And We're Back…Sort of | 9/30/2011 | The ladies are back...but not without a few technical difficulties :) Kim was able to save part of the show and we will return with a full show this weekend! Thanks everyone for hanging in there with us!!! |
| 39 | Dead Island Blues | 10/10/2011 | This week the ladies discuss Dead Island, Resistance 3, Where's My Water, Stray Souls, Early Birds & Monster Pet Shop. |
| 40 | Monk Curious | 10/23/2011 | This week the ladies discuss Deus Ex: Human Revolution, Rage, Dark Souls, Glitch, Squids and the new World of Warcraft expansion announcement: Mist of Pandaria. |