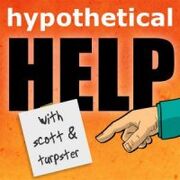 List of Hypothetical Help Episodes
Hypothetical Help is a podcast formatted in the style of a call in radio therapy show hosted by Scott Johnson and Mark "Turpster" Turpin. After playing a voicemail from a listener they will then offer up their non-professional advice to the caller.
Scott has stated that he will avoid answering any written questions for as long as he can. He strongly advises everyone to call the voicemail line.
They have broken up the episodes into "series" just like British Television programs and take a short hiatus between.
Reboot 2015
Edit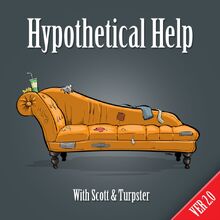 In 2015, thanks to Patreon supporters, Hypothetical Help was rebooted.