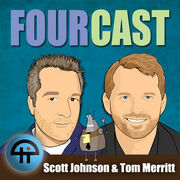 FourCast features hosts Tom Merritt and Scott Johnson as they predict the future with the web's smartest guests. FourCast is a joint venture between FrogPants Studios and SuBBrilliant Media; it is produced weekly on the TWiT network .
Tom and Scott ask guests to provide their predictions for three time periods: short term (the next couple of years), long term (50 to 100 years), and crazy-ass (10 thousand years). Guests' predictions often revolve around their own areas of expertise.
At the end of the show, each host will ask one guest if they are "sitting comfortably" and then provide them four specific questions that the guests are asked to answer in rapid-fire style.
Initially, each episode of the show had different guests. Beginning with episode 5, each set of guests were present for three episodes: one each for short-term, long-term, and crazy-ass. For episode 38, the show format changed to video on the TWiT network, and the show returned to having different guests for each episode.[1]