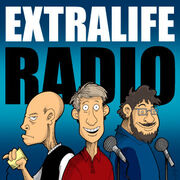 List of Extra Life Radio Episodes (Now with links to download episodes!)
ExtraLife Radio (often shortened to ELR) was created by Scott Johnson and began in 2003 as a stand alone downloadable MP3 file. It was a bi-monthly show that covered a wide variety of subjects, including video games, movies, comic books, and many random subjects as the hosts saw fit. It was a self-proclaimed geek show, for and by geeks.
In 2005, the delivery format was changed to a podcast. The original hosts other than Johnson were cartoonists Sergio "Obsidian" Villa-Isaza (nicknamed "O") and Brian Dunaway, and forum contributor Andrew Konietzky (who left the show in 2007). In addition to this panel the show also often featured guests and infrequent or frequent guest hosts. Mark Larson, a childhood friend of Johnson's, joined Scott in studio every week for a period until gas prices deterred him from driving to Johnson's house for the show. Afterwards he would appear infrequently over Skype as well as frequently sending in a 3-minute Movie Reviews segment.
ExtraLife Radio won several awards over its four year run. On February 12, 2010, after 233 shows, Johnson announced that ELR would no longer be recording and be placed on what he called an "indefinite hiatus" in a blog post titled "All Good Things..."
A Possible Return?..
[
]
On September 5th, 2010 on his Diary of a Cartoonist podcast, Johnson said he missed ExtraLife Radio and has considered bringing back, but also noted that its layout would probably be different and not include consistent panel members.
Along with this, on the 01 January 2011 at 12:22 Johnson posted the following on the ELR Facebook Page:
" Stuff comin...stay tuned. "