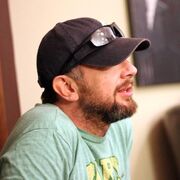 Brian Dunaway is a web-comic artist, podcaster, and family man. Dunaway is currently living in Greenwood, South Carolina.
Podcasts
[
]
Dunaway was one third of the trifecta that was "ExtraLife Radio", along with Scott Johnson and Sergio "Obsidian" Villa-Isaza (nicknamed "O"). The show ended on February 12, 2010, after 233 episodes.
On October 31, 2009, Dunaway joined Scott Johnson, Brian Ibbott, and Randy Jordan to review movies released on Netflix Streaming.
On April 9, 2010, Scott Johnson restarted The Final Score with Brain Dunaway as his co-host. Each week they would take a look at the news of the industry, game releases, retro games, as well as a segment where they would play the sounds of Brian playing a classic game. On episode 20 they were joined by Nicole Spagnuolo (aka Nicole Spag).
Comics Coast to Coast
[
]
Dunaway discusses comics with his co-hosts and interviews guest in the industry.
Comics
[
]
A simple tale about a guy who finds himself in a bush with no knowledge of his past or the facts behind his life that lead him to his current situation. Join in the journey as he attempts to discover himself and possibly the events that surround his mysterious appearance in the bush.