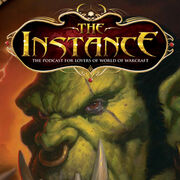 Opening Comments
Edit
We kick things off with a small discussion regarding EA, PopCap, and how it somehow effects wow. You'll have to listen to find out.
Big News of the Week
Edit
Real ID Group testing is now UP! "When delving into the depths of Azeroth's darkest dungeons, it always helps to have some friends at your side… now you're able to issue a call to arms no matter what realm they play on. We're pleased to announce the new Real ID Party feature is now available for testing! This new feature will allow World of Warcraft players to invite their real-life Real ID friends of the same faction to a party regardless of the realm they play on, and then queue up for a 5-player regular or Heroic dungeon. We talk about it in full.
Season 10 transition gets some relief after all.
Rumors & Scuttlebut
Edit
Ask The Devs 11 Healing Answers Coming TODAY! like, right now probably. More next week. And, attle.net Mobile Authenticator for Windows® Phone 7 Devices.
New Official Website Feature – Companions and Mounts. A visit to your character profile will reveal a new heading entitled "Companions & Mounts." There you'll find a complete list of in-game pets and mounts that your character can discover throughout Azeroth (and beyond). The list is conveniently divided between those that your character has already collected, and those that you have yet to find.
Drop of the Week
Edit
15 Minutes of Fame: Holding fast to Azeroth through the journey of Alzheimer's – by Lisa Poisso. Bill Craig is doing it right. The 61-year-old WoW player has suffered from early-onset Alzheimer's disease for half a dozen years now, winding his way through Azeroth for about half that time. He's ridden a bicycle all the way from Carrollton, Texas, to Carrollton, Georgia, to raise money and awareness for animal welfare — not once but twice.
He's a Vietnam vet. He serves as an advocate with the Alzheimer's Association, having recently returned from a trip to Washington, D.C., with his wife to meet with legislators about bills impacting Alzheimer's. Bill's contributions and commitment to his community and country are impressive for any seasoned professional, let alone someone living with a disease that monkeywrenches a person's thinking, memory and behavior.