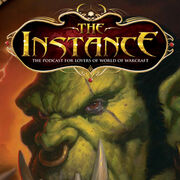 Big News of the Week
Edit
Scott starts us off with an EPIC tale of 10 man bravery and guild perking. Blizzcon ticket sales dates announced. You ready to order? Warlocks getting a gender choice with demons coming soon! We hash that out a bit for good measure.
Rumors & Scuttlebut
Edit
Could there be yet another game in development over at Blizzard that we've not year heard about? Well, a few rumors say yes to that question. Also, a dude dinged 85 without killing a single mob, or turning in a single quest. The armory data tells the tale. Plus, we tackle a big bunch of talk regarding achievement enhancements coming our way from Blizz, and possibly soon!
Drop of the Week
Edit
"Clique" (addon for casters, but great for healers)
Clique is a simple addon that enables powerful click-casting and hover-casting on your unit frames and in the 3D game world. You can bind virtually any mouse or keyboard combination to a spell or macro. In it's normal configuration this enables you to use the bindings over your unit frames in order to cast spells directly on that unit. This allows you to more quickly select both the spell to cast, and the target of the spell without requiring an extra click.