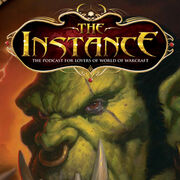 Big News Of The Week
Edit
The WoW Community Gets A Brand New Bag
Edit
Of course, 'round these parts, we call that a sack. A whole new sack of goodies went live this week for all you World Of Warcraft players who also want to interact with one another and with Blizzard on the web. The new WoW Community site is on Battle Net, and it is slick and pretty. Just like Ghostcrawler.
Rumors And Scuttlebutt
Edit
Region-wide Battlegroup Matching
Edit
Blizzard announced this week that they are in the process of rolling out a change to the game that is so technically broad, we wouldn't have believed it possible before 4.0. It isn't a surprise, since it was quite specifically proposed by Blizzard previously, but they've proposed many things that never quite came to pass.
Catching Up With Mr. Brower
Edit
As we teased in our last episode, Randy's longest interview at Blizzcon this year was too long to include in episode #207. In fact, it was too long to record in only one part! So right here for you this week, we have both parts of this fun interview of Russell Brower, recorded on Oct. 23rd.
Rapid Fire Rumors And Scuttlebutt!
Edit
Say goodbye to WoWiki, sort of.
We've talked about this a bit: You can now download Cataclysm and install it entirely before Dec. 7.
Town Cryer
Edit
All calls this week.
Drop Of The Week
Edit
The End Is Nigh!
Edit
This special feature on The Instance is re-born!! As you know, all Summer this year we presented suggestions and challenges to you, the WoW enthusiast, that we thought you might enjoy or simply miss having gotten done once the next expansion wipes a lot from the game. This week, we're looking forward to Cataclysm, and with exactly one month to go, there are things afoot in the game that are so timely that you should go experience them, now!