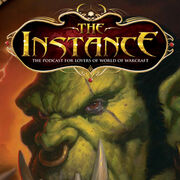 Big News Of The Week
Edit
Goody Sacks Are Sacks Of Good
Edit
We're now less than two months away from the start of Blizzard's nearly-annual blowout in Anaheim, and this week they revealed some of what attendees and purchasers of the television coverage of the event will be getting in their swagger bagger. Everyone who attends this year's BlizzCon or purchases the BlizzCon Virtual Ticket will receive an exclusive set of murlocalyptic in-game items for World of Warcraft and StarCraft II: Wings of Liberty. World of Warcraft players will be joined by Deathy, a murloc companion decked out as Deathwing and doing his best to strike fear into the hearts of Azeroth's crustacean population. You'll also be able to display your tidal pride in StarCraft II with a Murloc Marine character portrait and a pair of deep-sea decals to emblazon on your units, each with a different terran, protoss, and zerg design.
Rumors And Scuttlebutt
Edit
Our Long International Nightmare Is Over
Edit
This week in a truly wonderful post, Zarhym said, "With the release of the next beta patch, we plan to re-enable the ability for players to use third-party addons. Many of the core user interface features are now implemented in the beta test and functional, so we feel it's a good time to open up the field for developing and testing UI modifications." Oh Thank Goodness
Sure, Lead Content Designer Mumper had previously said, "note that all guild achievements start on Cataclysm launch, so anything you have now will not matter, it must be done with your guild after launch." But on Wednesday, responding to a question specifically about the guild achievement We Are Legendary (for constructing all the legendary items in the game), Mumper said, "We are making a exception for this guild achievement. Any legendary items you have already earned will count." Sometimes, WoW Players Kick Butt In Real Life
This past week, we learned that professional mixed martial arts fighter Joe Lauzon is a World Of Warcraft player, and he even went so far as talking about the game in interviews leading up to his match with Gabe Ruediger at UFC 118 two days ago.
Rapid Fire Rumors And Scuttlebutt
Coming in the imminent patch to the Cataclysm beta:
Goblin Big-Wheel
Dual Talent Specialization Cost Reduced to 100g
More!
How did we miss this? Orange County Choppers Alliance and Horde bikes.
Blizzard Wants More Aussies And Kiwis In The Cataclsym Beta
There's a Dr. Horrible stage show??
Town Cryer
Edit
Wherein we provide the best advice we can muster to you!
Drop Of The Week
Edit
Feed Your Eyes What You Fed Your Ears